Background
Green Germann Sakran (GGS) is a law firm with a long tradition of excellence in serving its clients. Its core founders were two brothers, Donald Green and Blair Green along with Gordon Germann, known formerly as Green Germann established the firm in the early 1970's. Don, Blair and Gord were well known for their exceptional legal talent and years of community service. Karmel Sakran, who joined the firm in 1995, is now the managing partner.
From the Archives: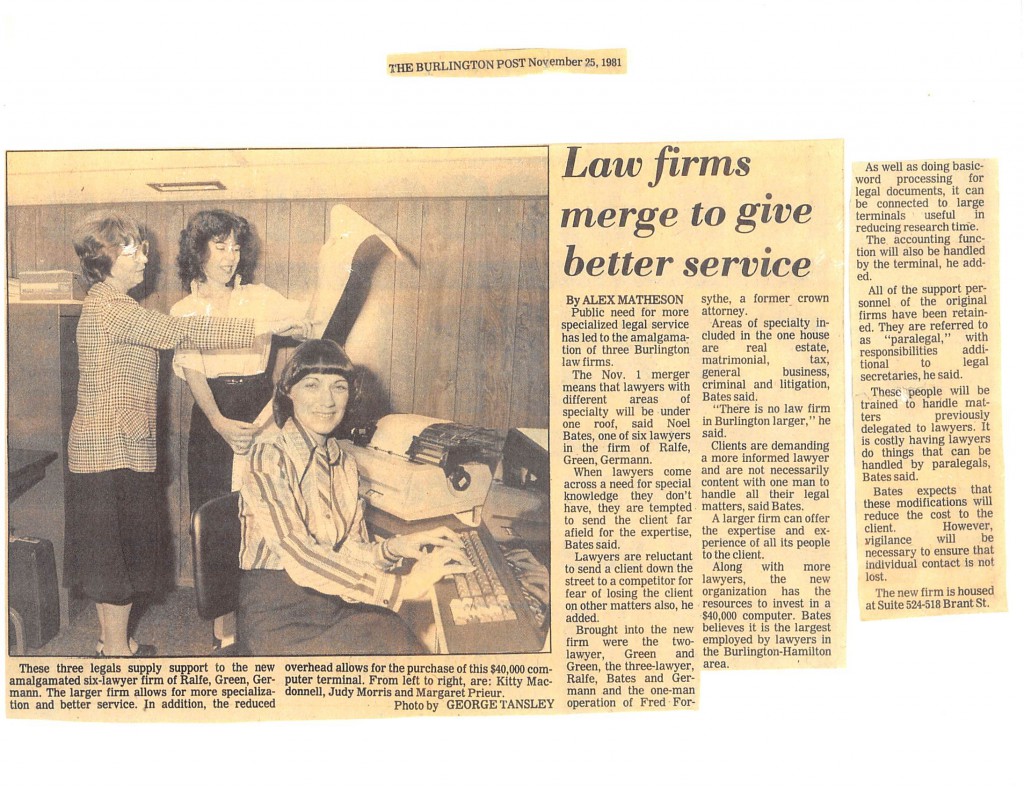 GGS provides legal services in the areas of Residential and Commercial Real Estate, Mortgage Financing, Construction Lien and Mortgage enforcement matters, Wills, Trusts and Estates, Corporate and Commercial Law, Succession Planning, Family Law, Civil Litigation, Employment Law, Personal Injury, and represent insurance brokerages in tribunal and complaint matters. GGS prides itself on offering exceptional legal talent that is accessible, affordable and reliable.
GGS strives to get their clients the results they deserve with legal advice tailored to meet their needs. GGS has offices across Southern Ontario and, when necessary, GGS lawyers will meet with clients at their convenient time and location.  GGS staff and lawyers represent a broad sector of Canadian society and can communicate with clients in English, French, Malayalam, Tamil, Portuguese, Italian, Serbian, Croatian, Bosnian, Arabic, Hebrew and Hindi.
GGS upholds a long tradition of community involvement, giving back to local organizations like the Food bank, student scholarships and bursaries, The United Way, YMCA, ARC Industries, organizations for assisted living and the mentally and physically challenged, Hospices, Hospital Foundations, Big Brothers and Big Sisters, Cancer Research, animal rescue and many other charitable organizations. GGS firmly believes in a culture of giving back and commitment of service to others.
GGS LAW Lawyers – Experience with a tradition of excellence.
Areas of Practice:
Real Estate»
Wills, Trusts and Estates »
Corporate and Commercial »
Family Law »
Civil Litigation »
Personal Injury »